Two weeks until the gnarliest race in Southern Indiana!
As the fall leaves cling to the trees, the 2017 Gravel Grovel course silently awaits this years contestants. 110 signups already with many expected last second entries are sure to satisfy the cold, muddy, rugged rolling hills in Hoosier National Forest. Those looking up the forecast might get excited to see a sun on Saturday the 25th, but veterans of the Gravel Grovel will wait eagerly for the clouds to roll in and rain to soak into the course, providing ample mud and slippage. While this may sound like a worst case scenario for most, DRT racer Jesse Smith welcomes these conditions as an opportunity to slip ahead of the higher maintenance riders. He's not one to slow down in the slick corners, instead using his speed and knowledge of the route to hit it hard where it matters. Locals like Jesse go out to Hoosier National consistently throughout the year, growing accustomed to the variability that those roads and trails experience.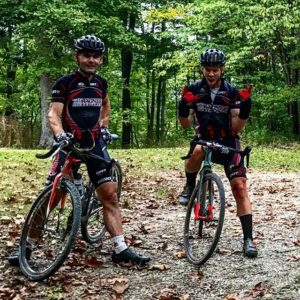 While Jesse might be going into this race with every intention of taking home the trophy, many readers might be wondering what the most renowned DRT racer Tomasz Golas plans to do on the 25th. Most Hoosiers remember when he wrecked tragically in this Spring's Death March, breaking his collarbone, but not many have seen his speedy comeback to dominating the road, gravel, and trails once again. Crushing nearly every Tuesday night Rev Ride while commenting on how "not so good" he feels or specifying that "[he] was only in the little ring" while dropping the hammer on the rest of our puny legs… where was I going with this? Oh ya, is he going to the Gravel Grovel or not. I have no clue, but if he is, and if you plan on grabbing his wheel, may God have mercy on your soul.
Anyways! Keep an eye out for the DRT tent on race day, and come by to say hi. We should be out in full force representing all levels of the sport. For all of you, happy training and see you on race day!